Description

Specs

DOCUMENTS

features
Description
Splitter NDT Inc. is extremely excited to introduce our brand new liquid penetrant inspection system, the LP1. This will be the first of 3 standard penetrant inspection systems available from Splitter NDT. 

The LP1 is the ideal stand alone liquid penetrant inspection station for the low to medium volume user. Ideally suited for aircraft maintenance facilities, nondestructive
testing labs, NDT schools and training institutes, government and military facilities, and more!

This system is designed with the needs of our client in mind. Extremely durable, user friendly and cost effective, making the LP1 the new go-to system in the industry
Ideal For:
NDT Training Institutes and Classrooms
Aircraft Maintenance and Overhaul facilities
Small to Medium Size Parts
NDT Service Providers with low-medium throughput 
LP1A is designed for method A liquid penetrant inspection
Includes 5 stations; Dip tank (with dwell), wash station, dryer, developer dust chamber, inspection booth
LP1B is designed for method B liquid penetrant inspection
Includes 6 stations; Dip tank (with dwell), emulsifier station, wash station, dryer, developer dust chamber, inspection booth
LP1D is designed for method D liquid penetrant inspection
Includes 7 stations; Dip tank (with dwell), pre-rinse station, emulsifier station, wash station, dryer, developer dust chamber, inspection booth
Specifications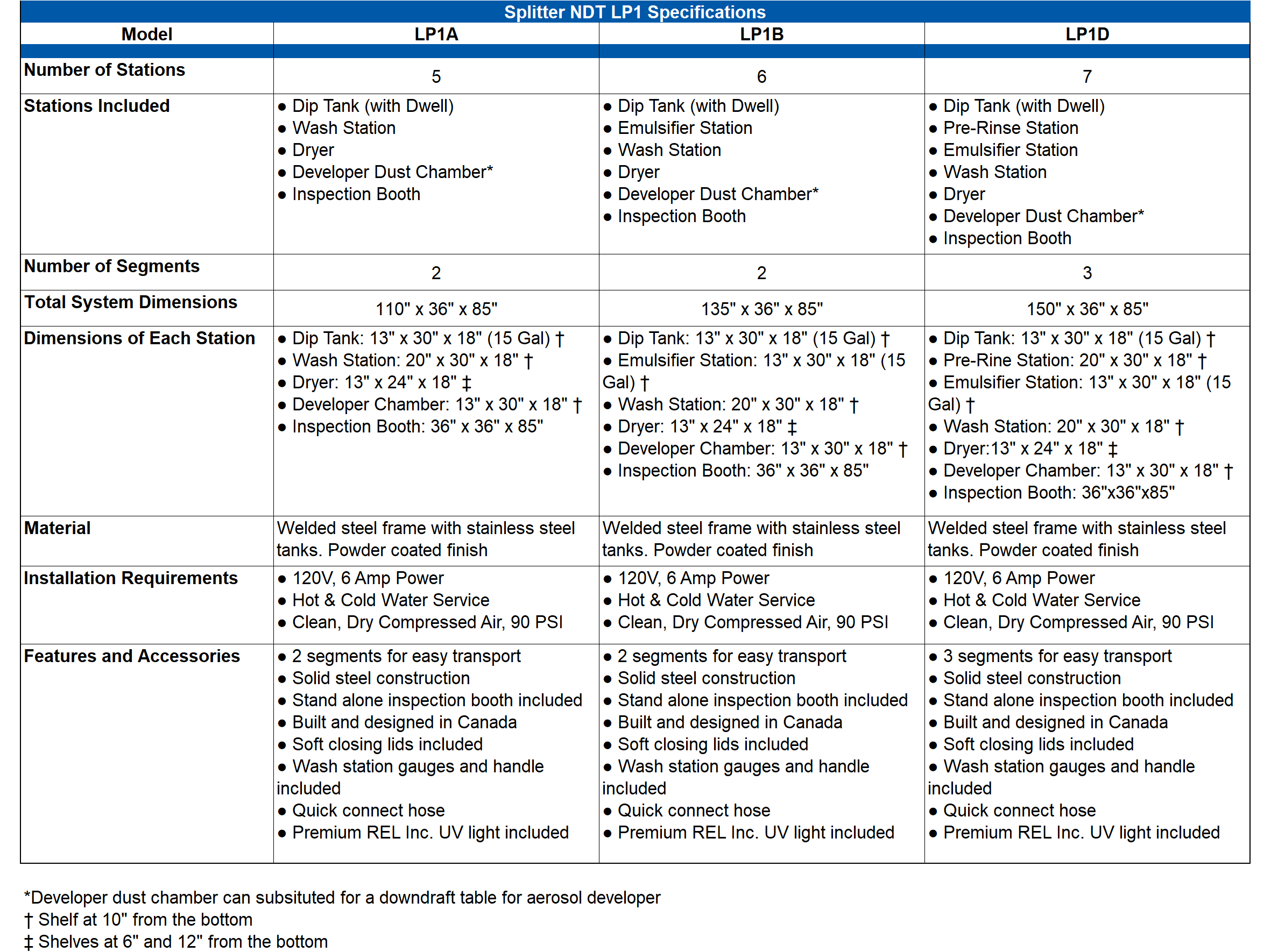 features
Highlights
All-in-one system
Built in 2 (or 3) segments for ease of transport
Separate wet end + dry end
Available for all LPI methods
Designed and built in Canada
Features
High quality design and construction
Built with a powder coated steel frame and stainless steel stations
Soft close tank lids
Full size, walk-in inspection station
Quick connect wash station hose
REL Inc. UV-A light included
Dryer and developer dust chamber. Dust chamber can be replaced by a downdraft table
System accessories included

tank lid
water gauges
UV-A Light

Discounted start-up kits available