Description

Specs

DOCUMENTS

features
Description
Our Waygate Technologies combination USM and DMS Go+ is the ultimate tool for NDT field work. By combining the powerful and fully loaded flaw detector with an advanced thickness gauge, you can be sure that it is the right tool for your next ultrasound inspection.
The USM Go+ ultrasonic flaw detector offers you the best of both worlds: the performance and features of a tabletop ultrasound detector in a small, ultra-portable handheld instrument that is outstandingly equipped for ultrasound detection in the field. Its ergonomic design, useful features and big performance are the result of carefully listening to the experience of the people in the field who, through their everyday practice, know best what it takes to do a good job.
The DMS Go+ Series offers comprehensive, handheld solutions to thickness measurement, data recording and data management in a wide range of applications and
environments. From simple A-scan verification to B-scan to full Data Recording capabilities, one of the DMS Go+ instruments will meet your corrosion thickness application needs.
*Transducers, cables and couplant sold separately. Discounts may be available depending on your rental duration*
Other key features & benefits

Very long life battery (> 6 hours)
A standard USB connection allows for data to be downloaded from the flaw detector for further analysis or storage.
The instrument's 2 GB memory can be easily exchanged by SD cards up to 16 GB.
Reports are produced in jpeg format so there is no need for special reading software.
Backwall Echo Attenuator (BEA) helps to find very small defects, improving detectability.
Automatic Gate Threshold for the 2 gates ensuring accurate measurements made under the same conditions.
A-Scan video recording up to 8 minutes allows live reporting.
Specifications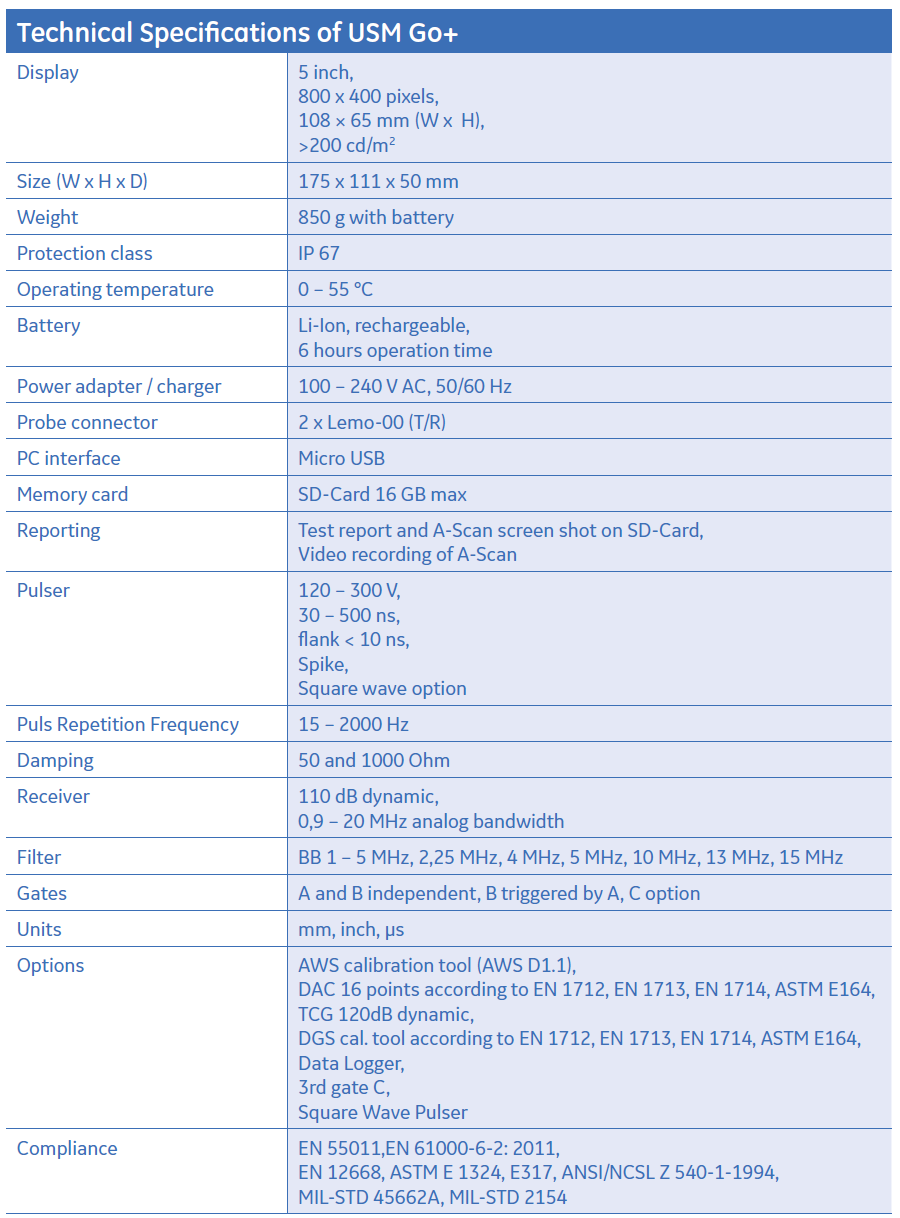 features
A wide range of applications
The USM Go+ has been designed to provide flaw detection capability in inspection situations throughout the industrial and process spectrum, from aerospace to power generation and from the automotive sector to the oil and gas industry.
Weld Inspection:
Trigonometric projections
AWS
DAC
DGS
Inspection of Forgings and Castings:
Manual PRF adjustment
Phantom echo indicator
DGS
Backwall Echo Attenuator (BEA)
Inspection of Rails:
High PRF (up to 2000 Hz)
Lightweight: 850 g (1.87 lb.)
Small size and ergonomics
Inspection of Composites:
RF Display
2 gates with B-start triggered with echo in gate A
TCG correction with high slope 120 dB/μs
Reflector depth indicated in layer
For more demanding applications:
Narrow band filters
Low noise digital amplifier
Square wave pulser