Description

Specs

DOCUMENTS

accessories
Description
Product Details
HD-PTZx30 Industrial Pan & Tilt Camera 3.0in (75mm) Diameter Pan/Tilt with 10X Optical Zoom Full High Definition 1080P Video Shipping Case. Camera Head only.
PTZ System Overview
Sensor Networks Inc (SNI) introduces a new High-Definition (HDTV) version of its field-hardened, rugged, waterproof and reliable Pan-Tilt-Zoom industrial
video inspection camera system. Available in two interchangeable PTZ heads:
A 3.5 inch dia. with 10x optical zoom and a 4.3 inch dia. with 30x optical zoom.
With cable lengths up to 500 feet, and available with a small CCU or an
integral cable reel CCU, HD-PTZx also features 1080P video resolution or ~ 6
times that of conventional CCTV video. Improved image resolution also
enables useful digital zooming. The system has bright, long-life LED
illumination for crisp, clear, color images for man-less entry and inspection of
industrial components such as:

Aircraft engine assembly and test cells
Large-diameter pipes, tanks & vessels
Nuclear reactor vessel, nozzles and internals
Nuclear fuel, spent-fuel pools, refueling operations
Steam generator primary- and secondary-side inspections
Plastic-, glass-, refractory-lined and stainless-clad vessels
Catalyst vessels and tray towers
Specifications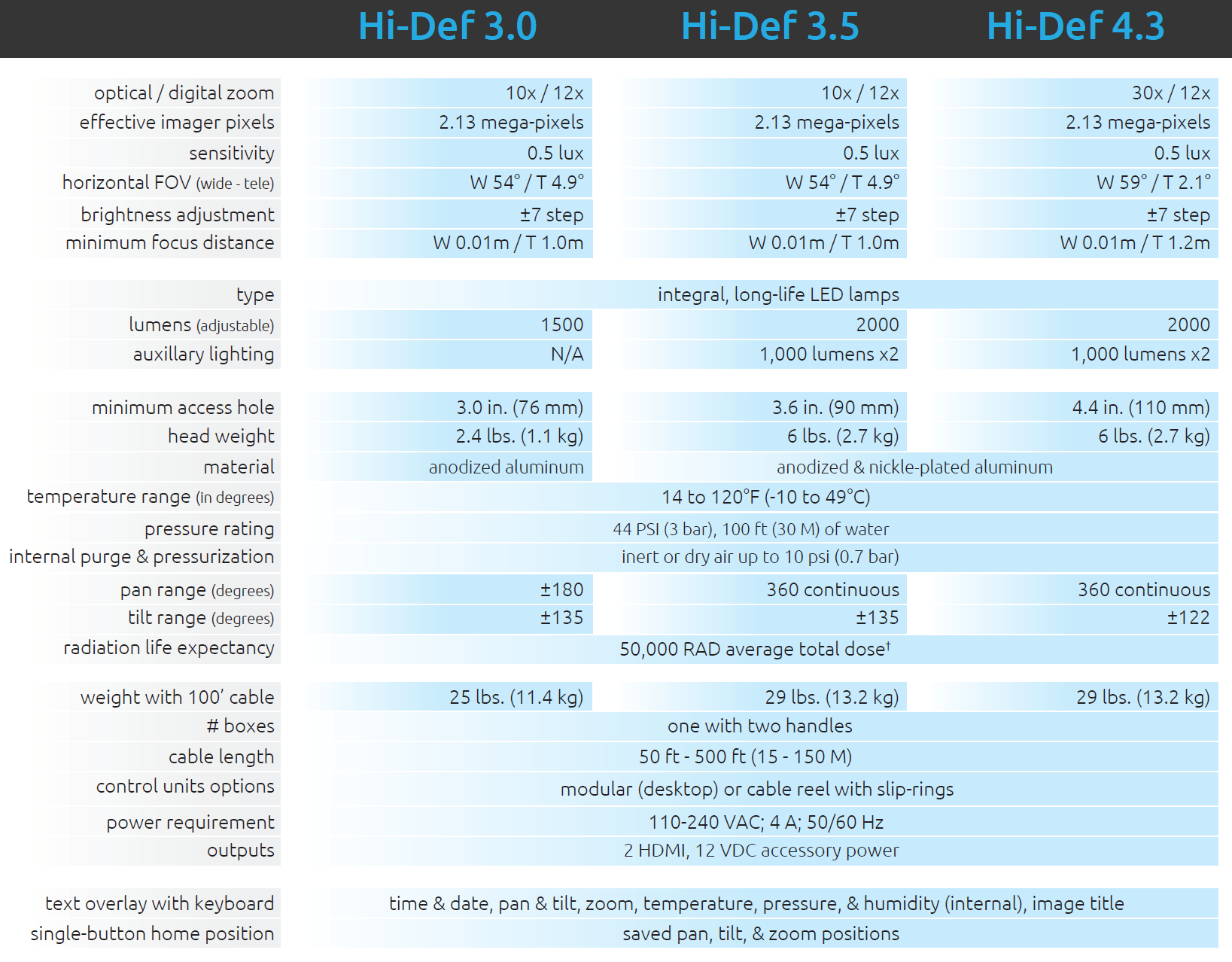 accessories
SN-163001: Hi-Def 30 Industrial Pan & Tilt Camera, 3.0in (75mm) Diameter Pan/Tilt with 10X Optical Zoom, Full High Definition 1080P Video, Shipping Case
SN-163002: Hi-Def 30 Industrial Pan & Tilt Camera, 3.0in (75mm) Diameter Pan/Tilt with 10X Optical Zoom, Full High Definition 1080P Video